Biography
I am blessed to have played some wonderful characters. Stand out moments are a ten month run of playing the secretive, yet explosive 'Tom' in Tennessee William's 'The Glass Menagerie' and philosophically challanged 'Gus' in Harold Pinter's 'The Dumb Waiter', 'Dorian' in 'Dorian Grey' and the lead in Joe Penhall's play 'Love and Understanding' at Battersea Arts Centre.
I have a bank of short films playing a range of characters, policemen, drunks, soldiers and emotionally damaged souls. My current wish is to base my career in the London Theater and progress in film and TV ventures.
I'm not sure if I should believe in the curses surrounding 'Macbeth' as I have played in three productions as 'Banquo', 'Witch and Messengers" and recently 'Ross'. My first Macbeth brings back happy memories of touring across Europe with a fabulous company and amazing bunch of actors.
I have had a great relationship with 'Theatre Peckham' performing in their song and dance extravaganza's. The, fun loving, camp style of production offers a welcome change from the more serious roles in which I'm usually cast.
In my ten years since graduating at East 15 I'm proud to have made my way in the world creatively, teaching theatre arts, directing and writing plays and projects. From classes in Austria to challenging South London schools and in the private sector. My aims are to raise confidence, teach a skill, encourage ambition and have a great time. However, Fuelling all this is my underlying passion to act myself.
Details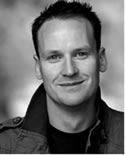 | | |
| --- | --- |
| Playing Age: | 28 - 38 |
| Height: | 6.00ft · 1.80m |
| Weight: | 11.50st · 75kg |
| Eyes: | Blue |
| Hair: | Brown |
| Training: | East 17 |
| Agent: | dQ Management |