Biography
I am blessed to have played some wonderful characters. Stand out moments are a ten-month run of 'The Glass Menagerie' playing the secretive, yet explosive Tom Wingfield and a European tour of Harold Pinter's 'The Dumb Waiter', playing the philosophically challenged 'Gus'. Other highlights include 'Dorian' in 'The Portrait of Dorian Grey' and the lead in Joe Penhall's play 'Love and Understanding' at Battersea Arts Centre. I'm not sure if I should believe in the curses surrounding 'Macbeth' as to date I have played in three different productions.
I have a bank of short films playing a range of characters varying from policemen, drunks, soldiers and emotionally damaged souls and my current wish is to build on my film experience.
My casting type is a little different to myself… On screen, I am the friendly neighbour that doesn't mind burying a body or two. You will get a cheerful 'Hello' as I prune my hedge whilst covering up the dirt and blood. I delight in playing this fall from grace. I could be cast in any number of Professional roles (the Teacher, the Policeman or the Doctor) but i am the professional by day and serial killer is my night job, but its ok, I can juggle both. On screen I am edgy, a man under pressure but hold things together well even if my vulnerability shows. If I had a choice, my ideal casting would whisk me off into space where I could leave this world behind. … Can I stress again that I am actually lovely as a person and very normal to work with.
I also work as a self-employed drama practitioner (coaching, devising, writing, directing, producing and so forth). I run acting and drama classes and projects for all ages and abilities with a passion to raise confidence, teach skills, encourage ambition and have a great time in doing so. This intern fuels my underlying passion to act and vice versa. I am excellent at getting everyone involved, engaged and excited about theatre art and giving people the confidence to reach their potential whilst exploring text, techniques, and practice. My tutoring career started at Theatre Peckham and I have much to thank them for, but my work has been influenced by Stage Coach and the amazing St Pauls Cathedral in central London who entrusts me with their drama curriculum.
Originally, I am from Norfolk, I've travelled across Africa, lived in Germany and survived a cold winter in Wales. I am now based in the south of London but if I have a chance to put my backpack on and head to the German Alps to practice my German or to Croatia to further my SCUBA skills then I am there. The problem with this however is I have a fear of heights and a fear of crabs, so I tend to stay at home in south London (Penge) where I live and enjoy the theatre scene in London.
I love what I do... and would love to do more!
Details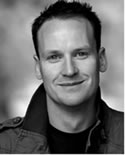 | | |
| --- | --- |
| Playing Age: | 28 - 38 |
| Height: | 6.00ft · 1.80m |
| Weight: | 11.50st · 75kg |
| Eyes: | Blue |
| Hair: | Brown |
| Training: | East 17 |
| Agent: | dQ Management |